Difference between revisions of "AN~MTC-9"
Jump to navigation
Jump to search
 

Line 37:
Line 37:
 
 
 

* TM 11–5805–288–15

 

* TM 11–5805–288–15

 
+
 
+
 
+
 
+
 
+
 
+
---
Latest revision as of 11:07, 28 June 2019
The Manual Telephone Central Office AN/MTC-9 was an air- or vehicular-transportable manual central office which provided switching for 596 local battery or common battery subscriber 1ines and 60 manual or dial trunk circuits. The AN/MTC-9 was housed in two semitrailer vans, the AN~MTA-5 and the AN~MTA-7. The AN/MTA-5 contained the relays, frames, storage batteries, and power panel. The AN/MTA-7 housed nine switchboards cabled in a four-panel multiple arrangement. The AN/MTC-9 was used at army signal centers in an area type communications system.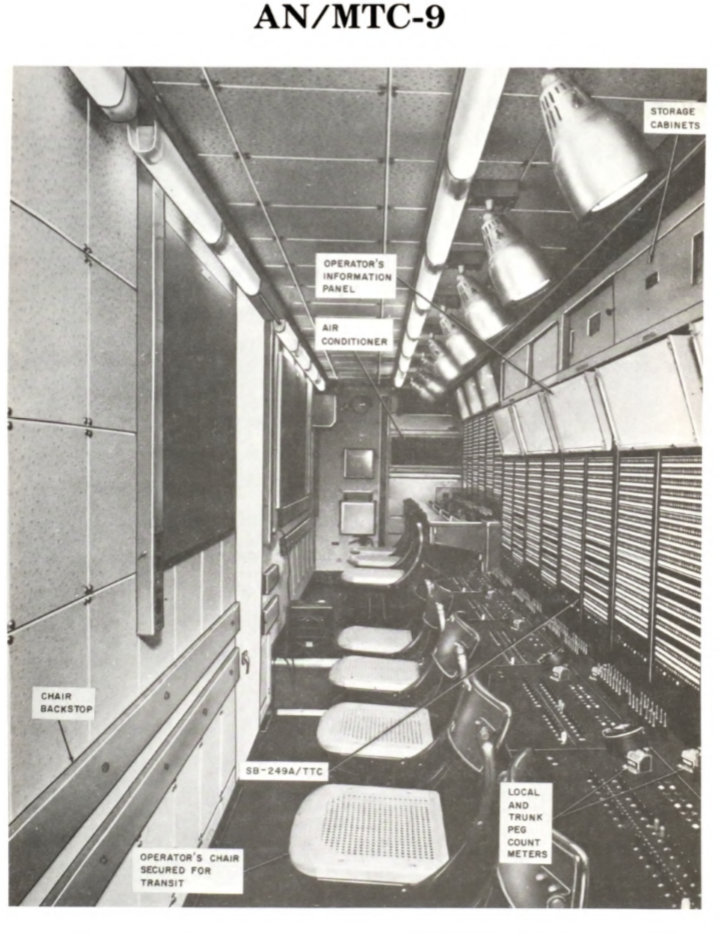 Major Components
AN/MTA–5:
7 Main Distribution Frame TA-257/TTC
6 Line Relay Circuit TA-223A/TTC
3 Trunk Relay Circuit TA-226A/TTC
4 Telephone Set TA-312/PT
2 Power Distribution Panel SB-1032/TTC
4 Battery BB-46
1 Air Conditioner
1 Semitrailer Van M-348A2 (modified)
AN/MTA-7:
9 Manual Telephone Switchboard SB-249A/TTC
4 Telephone Set TA-312/PT
1 Air Conditioner
1 Semitrailer Van M348A2 (modified)
Reference File
See Also
MTC - Mobile Telephone Communicaton