AN/TRC-97
Jump to navigation
Jump to search
AN/TRC-97
The basic AN/TRC-97 radio system was developed by the Marine Corps during the early-mid 1960's. The first operational application was in South East Asia in 1966. Since then the AN/TRC-97 has been a primary means for providing inter-unit multichannel trunking for USMC and USAF tactical forces. The AN/TRC-97 series radios are all housed in S-308 series shelters (modified S-318 series) and provide a nominal one kilowatt output power with dual space diversity reception for tropostheric forward scatter communication. For line-of-sight operation, the high power amplifier can be bypassed and the one watt output of the intermediate power amplifier (TWT) fed directly to the antenna. 4 Operating frequencies are selected from 1, 200 available ~channe1s~ in the 4. 4 to 5.0 GHz range spaced in 500 kHz increments. It used analog radio and had a 12-channel capability.
AN/TRC-97A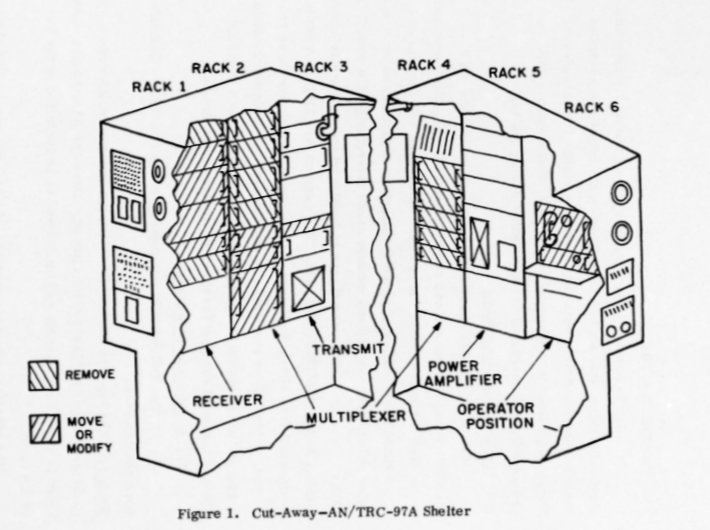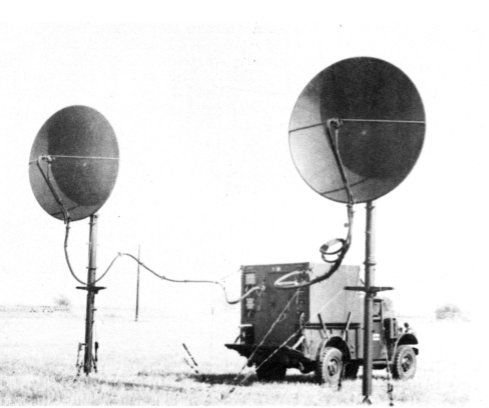 The AN/TRC-97A is a tactical troposcatter radio set with dual space diversity, designed to provide two way voice, digital data and teletype communications. It can also be used for line-of-sight (LOS) and diffraction propagation. A variety of RF power modes can be selected to achieve optimum operation up to 100 NM with single links using any one of the three propagation modes. Longer distances (up to 1000 NM) can be achieved with tandem links using other TRC-97As as repeater stations. The teletype (TTY) multiplexer can be patched into any one of 24 voice frequency channels to provide 16 TTY channels. The system employs either a horn antenna elevated fifty feet to clear obstacles or a highly directional, high gain parabolic dish antenna.
CAPABILITY: Full duplex voice, teletype, FSK or data channels. The TRC-97 employs 12 channels and the TRC-97A (used in the TACS) employs 24 channels, 23 voice and one channel capable of providing 16 teletype circuits. The set may be used as a fixed terminal, relay, combination terminal/relay with capability to drop out or insert information into the system.
FREQUENCY RANGE: Continuous 4400 to 5000 MHz. (4.4 5.0 gcs).
ANTENNA GAIN: Parabolic: 38db, 3 0 beam width. Horn: 20db, 18 0 beam width.
POWER INPUT: 120/208 VAC, 3 phase at 400 Cps at 10 Kw.
POWER OUTPUT: Tropo: 1 Kw nominal. LOS: 1 watt.
ERECTION TIME: 4 men approximately 11/2 hours.
MODULATION: FM
DIVERSITY: Dual Space.
DISTANCE RANGE: 1 to 100 nautical miles (1000 miles with relays).
MAJOR COMPONENTS: NOMENCLATURE COMMON NAME
S-308/TRC-97 Shelter
MT-3658/TRC-97A Transit Frame.
OA-7160/TRC-97A Antenna, Horn with mast.
OA-8112/TRC-97A Antenna, Parabolic with mast.
OA-7161A/TRC-97A Transceiver Group.
GCC-6 Multiplexer Group.
M-37 (being replaced) Truck, cargo, 3/4 ton (will be new, 1,5 ton truck)
M-101/V-334 trailer 3/4 ton, cargo
MANUFACTURER: R.C.A.
WEIGHT: 1760 lbs.
CUBE: 240.0 cu. ft.
APPLICABLE TOs:
31R5-2TRC97 2 - - - Service Instructions.
31R5-2TRC97-2 1 - - USAF Calibration and Measurement Summary.
31R5-2TRC97 3 - - - Circuit Diagrams.
31R5-2TRC97-4 - - - Illustrated Parts Breakdown.
31R5-2TRC97-6WC-1 - PMI Workcard Set.
31R5-2TRC97 9 - - - Alignment Instructions.
AN/TRC-97E
The AN/TRC-97E consists of the OA-7161C/TRC-97 Radio Set Group and of the OA-8439/TRC-97C Power Accessory Group:
See Also
TRC - Transportable Radio Communication