Difference between revisions of "BD-89"
Jump to navigation
Jump to search
Line 20:
Line 20:
 
 
 

==Reference==

 

==Reference==

−

*TM 11-340

+

* TM 11-340
---
Revision as of 08:14, 6 December 2015
BD-89 Switchboard
Switchboard BD-89 is a com plete, transportable, single-position telephone switchboard serv ing both magneto and common battery lines. Lamp signals are provided for the common battery lines and the cord circuits, and drop signals are provided for the magneto lines, with magneto recall lamps associated with each cord. This switchboard has a capacity of 37 common battery line cir 38 cuits, 20 magneto line circuits, 13 universal cord circuits, 2 trunk circuits for connection to a common battery manual central office, and one dial trunk circuit. Operation of this switchboard is comparable to operation of Switchboards BD-91 and BD-96. Detailed operating procedure for this switch board is explained in TM 11-340, Telephone Central Office Set TC-2.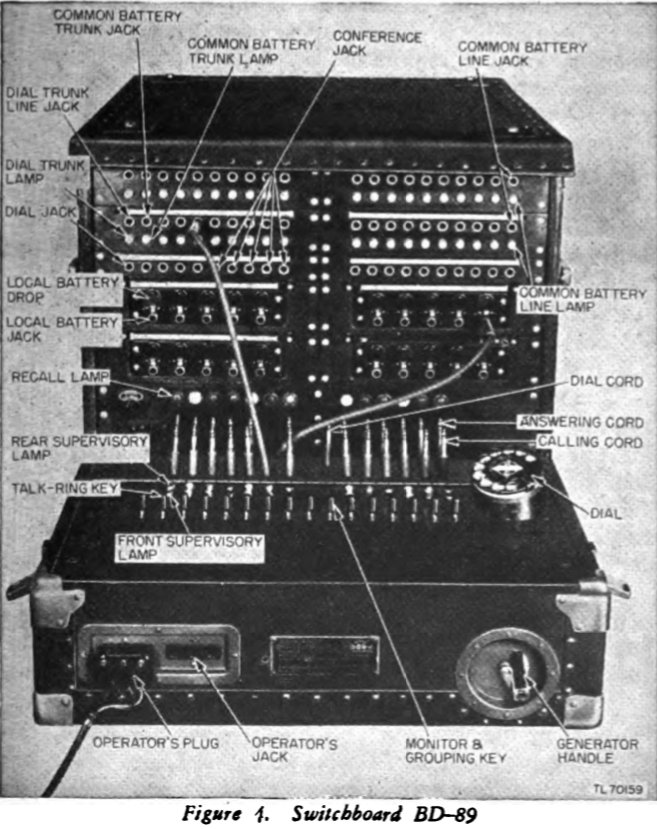 Reference

TM 11-340 Telephone Central Office Set TC-2. War Dept. Oct. 1942. 83 p. U408.3.A13 TM 11-340 Oct. 1942