Difference between revisions of "TD-202~U"
Jump to navigation
Jump to search
---
Revision as of 07:38, 23 June 2019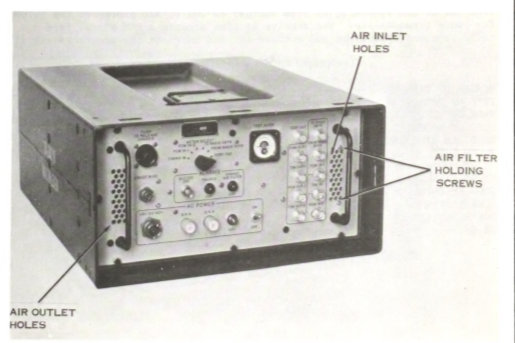 The TD-202/U was a 12- or 24-channel PCM radio transmission interface unit. The transmit section accepted TDM-PCM outputs from one or two TD-352/U's or a TD-204/U, or from another TD-202/U, and processed the out- puts for radio transmission. The receive section accepted a PCM signal from a radio receiver, processed and retimed it, and extracted the orderwire signal.
Reference Files

TM 11-5805-367-12
OPERATOR'S AND ORGANIZATIONAL MAINTENANCE MANUAL
MULTIPLEXERS

TD-202/U (NSN 5805-00-884-2176)
TD-203/U (NSN 5805-00-884-2177)
TD-204/U (NSN 5805-00-900-8200)
TD-352/U (NSN 5805-00-900-8199)
TD-353/U (NSN 5805-00-985-9153)

RESTORERS, PULSE FORM,

TD-206/G (NSN 5805-00-868-8078)
TD-206B/G (NSN 5805-01-020-2251)

CONVERTERS, TELEPHONE SIGNAL

CV-1548/G (NSN 5805-00-069-8795)
CV-1548A/G (NSN 5805-00-069-8795)
30 AUGUST 1966

TM 11-5805-367-20P-1-1
ORGANIZATIONAL MAINTENANCE REPAIR PARTS AND SPECIAL TOOLS LIST (INCLUDING DEPOT MAINTENANCE REPAIR PARTS AND SPECIAL TOOLS)

MULTIPLEXER
TD-202/U (NSN 5805-00-884-2176)
1 AUGUST 1992

TM 11-5805-367-34P-1-1
DIRECT SUPPORT AND GENERAL SUPPORT MAINTENANCE REPAIR PARTS AND SPECIAL TOOLS LIST (INCLUDING DEPOT MAINTENANCE REPAIR PARTS AND SPECIAL TOOLS)

MULTIPLEXER
TD-202/U (NSN 5805-00-884-2176)
1 AUGUST 1992

TM 11-5805-367-35/1
DS, GS, AND DEPOT MAINTENANCE MANUAL

MULTIPLEXERS
TD-202/U
TD-203/U
24 JANUARY 1967