PU-181
Jump to navigation
Jump to search
Engine Generator PU-181/PGC-1 is a compact, lightweight, electric generating set which consists of gasoline Engine GE-12-F and a-c (alternating-current) Generator GN-51-C. It is designed to deliver 300 watts ac at 120 or 240 volts, operating at 3,600 rpm (revolutions per minute).
Engine GE-12-F is a single-cylinder, air-cooled, two-cycle gasoline engine which develops 1.25 horsepower at 3,600 rpm.
Generator GN-51-C is a single-phase, 60-cycle unit of the revolving-field type. It is coupled to the engine crankshaft by means of a splined, flexible coupling and fan assembly. The complete engine generator is mounted on four rubber shock mountings in an open tubular frame. The rubber shock mountings serve to absorb vibration when the unit is in operation.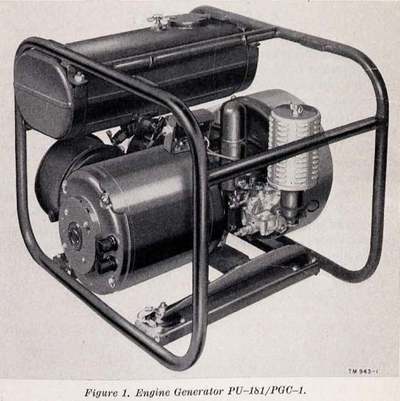 Reference Files

TM 11-943
Engine Generator

PU-181/PGC-1
April 1951